With a successful track record of leadership in private practice outpatient orthopedics, Jason Wambold, MSPT, of Agape Physical Therapy knew first-hand that the traditional business model for physical therapy practices was behind the times compared to compensation structures in other types of fields.
Under the traditional model, there was no reward or potential to provide additional compensation for high-performing PT providers. Likewise, there wasn't an effective mechanism in place to track provider performance. This led to staffing and profitability challenges, patient dissatisfaction and inequity across the providers within a practice.
It didn't take much for Wambold to convince Agape CEO, Frank Nowak, that changing the business model of their practice would be mutually beneficial. They knew that technology was the answer to transform the business with a pay-for-performance strategy that would reward higher-performing PT providers through compensation and the flexibility to control their schedules. They also realized that the right technology could be built and licensed to all similar types of provider businesses. With this concept in mind, they formed Pay-For-Performance, LLC (PFP) and started their venture to find a tech partner to bring their vision to life.
PFP approached Envative to develop a comprehensive, web-based platform that would handle the operational administration of their new approach, with plans to roll it out to all Agape locations as a pilot program. Their long-term goal: introduce this game-changing model and system to practices everywhere, because PFP was confident it would be a win-win-win for patients, employees and practices.
The system needed to be built for scale, multi-tenanted and customizable by practice for details such as rate schedules, pay profiles, employee tiers and assignments. Of course, the interface also needed to be user-friendly with considerations for employees along with management and administrative roles, and able to handle scheduling, cancellations, tracking/logging of appointments, vacations and more.
In addition, a standardized API infrastructure was needed to integrate with a variety of HR and payroll systems to ensure accuracy with the dynamic compensation plans.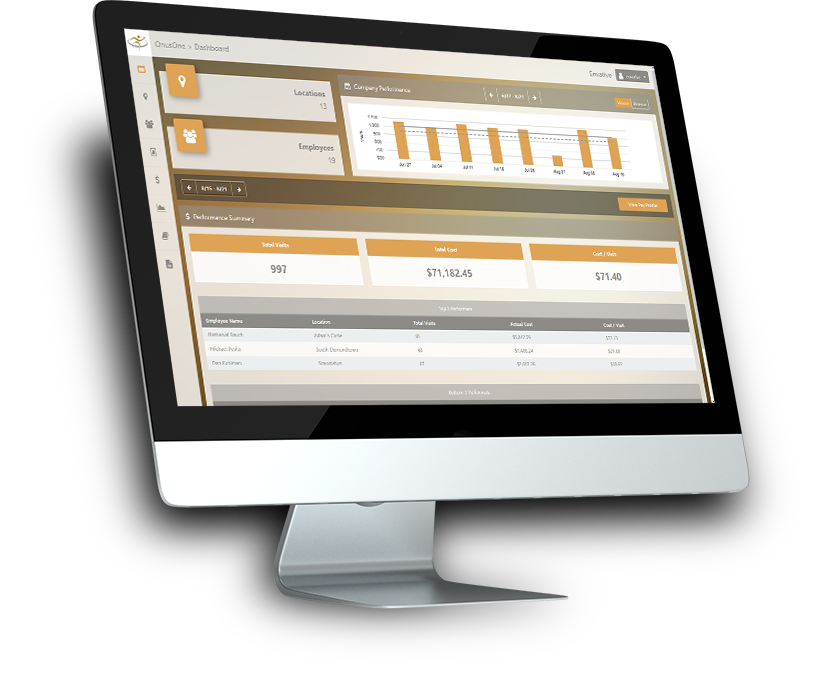 See the OnusOne Prototype
We start every project by creating an interactive prototype to eliminate project risk. Check out the prototype we did for this one by clicking through active fields in the screens linked above. Then see our final solution below.
See the solution